Als Europa al zijn bossen verbrand, is dat genoeg energie voor EEN jaar.
Het idee is dat het beter is voor het klimaat als je fossiele brandstof, zoals olie kolen of gas, vervangt door biomassa.
De gedachte dat iets verbranden goed is voor het klimaat is sowieso al een beetje vreemd, maar levert het verbranden van biomassa genoeg energie voor een maatschappij met 7 miljard mensen, fabrieken, auto's, bussen, treinen vliegtuigen, schepen ? Ik denk het niet.
In het Kyoto protocol van 1992 is het verbranden van biomassa ten onrecht gelabeld als co2 neutraal. Sindsdien wordt er wereldwijd steeds meer hout verbrand om electriciteit en warmte op te wekken. Deze techniek verbruikt zeer veel hout. Er worden daarom in een steeds hoger tempo bomen verbrand in houtovens.
Het bosbestand loopt mede daarom steeds verder terug omdat duurzaam bosbeheer niet meer in de houthonger van de biomassa industrie kan voorzien.
Overdreven?
Dit is wat vooraanstaande klimaatwetenschappers er over te zeggen hebben. Onder hen is ook de wetenschapper die mee geholpen heeft het kyoto protocol te schrijven.
Deze maas in de wet geeft oliemaatschappijen, energiecentrales en industrieën die te maken hebben met strengere vervuilingslimieten een goedkope, maar onjuiste manier om aanspraak te maken op vermindering van de uitstoot van broeikasgassen. Volgens een aantal onderzoeken, waaronder een onderzoek van het Amerikaanse Department of Energy-lab, zou het wereldwijd toepassen van deze stimulans kunnen leiden tot het verlies van de meeste natuurlijke bossen ter wereld.
Biomassa fabeltje 1: Als je een boom niet verbrand verrot hij en komt de co2 alsnog vrij.
Dat is maar gedeeltelijk waar. Een dode boom is voedsel voor de volgende generatie bosleven. Het blijkt dat bomen behoorlijk goed zijn in het overbrengen van hun CO2 naar de bodem in plaats van de atmosfeer wanneer ze dood omvallen. Ondergrondse wortels van paddestoelen genaamd mycorrhiza verteren het hout en houden de koolstof die de bomen uit de lucht hadden genomen in de bosgrond. Er komt dus slechts een gedeelte van de co2 weer in de atmosfeer terecht.
Het bewijs? Steenkool !!!
Miljoenen generaties planten en bomen hebben koolstof uit de lucht gehaald en afgezet als bergen van steenkool. Het is wat bomen en planten doen. Omdat bomen en planten de CO2 uit de atmosfeer haalden, hebben we het aangename comfortabele klimaat waar we vandaag van genieten.
Biomassa fabeltje 2: Hout verbranden produceert geen co2.
Als je koolstofhoudende brandstof verbrand komt er c02 vrij. Dat is wat er gebeurt, koolstof plus zuurstof levert warmte en co2 plus nog wat andere stoffen.
Houtverbranden levert meer co2 dan welke fossiel brandstof dan ook. Je kan nog zoveel wet en regelgeving optuigen, hout verbranden is niet co2 neutraal, als je een lucifer bij een stapel hout houdt komt er co2 vrij.
Het verbranden levert 50% meer co2 op dan het verbranden van kolen. Volgens anderen drie keer zoveel. Weer anderen houden het op ongeveer de gelijke hoeveelheid als kolen verbranden.
Maar een ding is zeker er is geen slechtere brandstof dan hout. biofuelwatch
Biomassa fabeltje 3: Als je een boom omhakt en verbrandt, stimuleert de co2 de groei van het bos. Dat bos neemt vervolgens de CO2 op die vrijkomt door de boom te verbranden.
Dit is wat er echt gebeurt. Na de houtoogst is de hoeveelheid koolstof ter plaatse aanzienlijk verminderd, de koolstof is met de bomen verdwenen. Het kan tot 200 jaar duren voordat door nieuwe bijgroei de koostof voorraad op het oude niveau is en de co2 die vrijkomt bij de verbranding van de houtoogst weer is opgenomen in het bos.
Het blijkt dat bomen levenslang groeien en CO2 opslaan in wortels, takken, stammen en bladeren. Een boom die je na 40 jaar kapt had dus nog tientallen jaren co2 kunnen opnemen. Het is duidelijk dat een zaadje van een nieuwe boom in de grond de co2 opname van een vele tonnen zware boom bij lange na niet kan evenaren.
De tweede generatie bos groeit al langzamer dan de eerste generatie bos. De bomen gebruiken de voedingstoffen van vorige generaties bomen die in de bodem zijn opgeslagen. Voor de derde en volgende generaties bomen blijven er steeds minder voedingstoffen over. De bodem raakt uitgeput en het bos groeit steeds langzamer.
Mensen geloven dat je alles zomaar om kan hakken en dat alles dan vanzelf weer aangroeit.
Maar zo is het niet. Op veel plaatsen is het natuurlijke bos al vervangen door monoculturen die met kunstmest bemest worden en met pesticiden worden behandeld om plagen tegen te gaan. Een monocultuur heeft nu eenmaal geen natuurlijke weerstand tegen plagen. Dit worden nog wel bossen genoemd, maar zijn in feite bomenplantages zonder enige natuurwaarde.
Biomassa fabeltje 4: Alleen "afvalhout" of "gecertificeerd duurzaam" hout wordt verbrand als biomassa.
Duurzaam hout bestaat (bijna) niet. Om de vruchtbaarheid van de bodem en de biodiversiteit in stand te houden kap je selectief en laat je zoveel mogelijk resthout liggen. Het resthout verteert en biedt beschutting en voedsel voor schimmels, microrganismen, insekten en vogels die insekten eten.
De voedingstoffen en een gedeelte van de koolstof van het resthout worden in de bodem opgenomen. Dat is goed voor de vruchtbaarheid van de bodem en de biodiversiteit. (zie fabel 3)
Het kappen van grote percelen bos is geen'duurzaambosbeheer'
Bekijk dit filmpje over de bosbouw industrie in de U.S.A. Het is in engels maar de beelden spreken voor zich.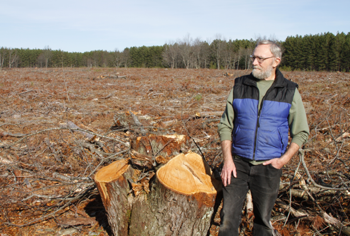 Duurzaam beheerd bos in Michigan.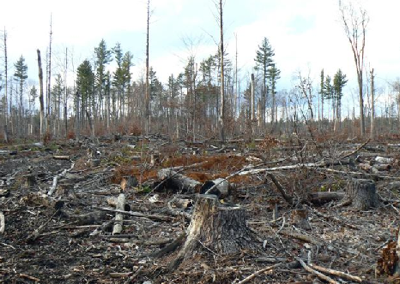 Duurzaam beheerd bos in Massachusetts.
Al het hout in dit bos is verwerkt tot pellets en naar Europa verscheept.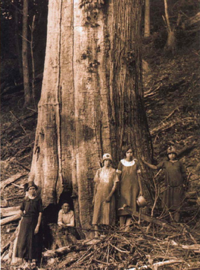 Waar vind je zulke bomen nog?
Grootschalige houtkap heeft een negatief effect op de biodiversiteit
Het verlies aan biodiversiteit wordt gezien als een even groot gevaar als klimaatverandering.
De komende decennia zullen tussen de 500 duizend en 1 miljoen van de bestaande 8 miljoen soorten uitsterven.Dat staat in een rapport van het biodiversiteitspanel IPBES van de Verenigde Naties. IPBES staat voor Intergovernmental Science-Policy Platform on Biodiversity and Ecosystem Services (IPBES).
Om het klimaat te redden moeten we bomen planten, niet kappen.
Onderzoek: Planten van biljoen bomen beste actie tegen klimaatverandering.
Het planten van een biljoen bomen is de beste manier om de opwarming van de aarde tegen te gaan, schrijven Zwitserse wetenschappers in het vakblad Science. Het initiatief zou twee derde van alle koolstofuitstoot sinds het begin van de negentiende eeuw, in totaal zo'n 300 gigaton, compenseren.
Onderzoekers stellen, na het analyseren van bijna 80.000 satellietbeelden, dat er in Rusland, Canada, Australië, Brazilië, China en de VS voldoende ruimte is om de nieuwe bomen te planten. Dat zou zo'n 300 miljard dollar of 266 miljard euro kosten, zo'n 27 cent per boom.
In totaal gaat het om 1 miljard hectare nieuw bos, een gebied ter grootte van de VS. Het zou, behalve het tegengaan van de opwarming van de aarde, de biodiversiteit en waterkwaliteit verbeteren en erosie verminderen.
Een noodzakelijke onderneming, aldus onderzoeker Laura Duncanson van de universiteit in Maryland en NASA. Collega-onderzoeker Tom Crowther noemt het de "goedkoopste manier om klimaatverandering tegen te gaan".
Volgens hem beïnvloedt het idee het dagelijks leven niet en kan alsnog iedereen gemakkelijk zijn steentje bijdragen. "President Trump hoeft niet ineens te geloven in klimaatverandering, dit plan kan wereldwijd meteen worden ingezet."